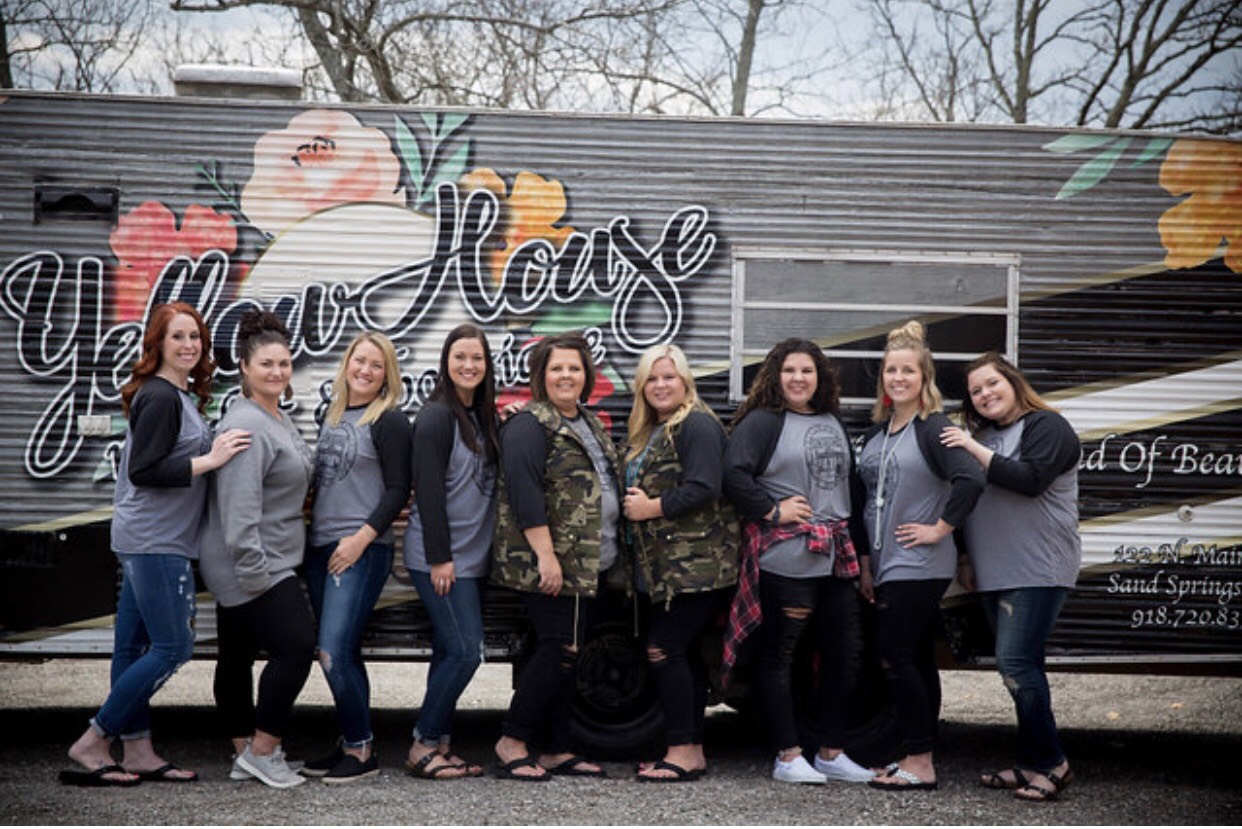 YellowHouse Market & Boutique first opened its doors in Sand Springs in October of 2015. Less than three years later, the locally owned and operated business is the model of success thanks to strong customer service and a heart for the community.
"We started out with a booth in Vintage Stables," says owner Lisa Miller. "We started putting clothes in there and we would sell out right away. That's when we decided to open a store and give it a shot."
The boutique first opened up at Livi Lee's Corner and relocated to the historic downtown Chastain's building in time for their one-year anniversary. The relocation was a coming-home of sorts for Miller, who previously worked for the prior owner of the building. When Laurie Joslin decided to close DejaVu Decor, both she and Miller felt it was God's plan for YellowHouse to take over the location.
The business takes its name from Lisa and Mike Millers' first home, a yellow farm house in their hometown of Skiatook. The couple arrived in Sand Springs thirteen years ago with their three kids, each of whom has a hand in the family business.
"We've been surprised by how well it has gone and how supported we've been," says Miller.
YellowHouse is unique in that they carry Small through 3X sizes in almost all of their clothing. They also receive lots of praise for their customer service, and carry a nearly-perfect 4.9 star rating on Facebook with over 200 reviews.
Miller hopes to launch a new online store in the next couple of months, and recently purchased a mobile boutique to use at road shows and events like Chillin & Grillin, which will be held in Case Community Park this April.
"When I opened YellowHouse I was really terrified that it would not go well, and as it has grown, I've learned to start telling God 'yes' instead of 'no, because I'm scared,'" says Miller. "The more I say yes, the more that happens. I want women to get over the fear of 'what if this doesn't work.'"
YellowHouse has hosted popup shops to help promote other small businesses. Jaden's Designs sold wooden signs and other calligraphy-related home decor, Jade Crawford held an art show, and All Blessings Boutique showcased their custom burlap pillows. They will have several small vendors in the shop during the Herbal Affair and Festival later this month.
Miller was asked to join the Sand Springs Chamber of Commerce Board of Directors in January, and has helped organize a new Small Business Initiative to guide other local startups to success.
"People really want small businesses and stuff like this in Sand Springs. It's evident in the way we've been supported."
YellowHouse Market and Boutique
918.720.8370
122 North Main Street
Sand Springs, OK 74063
http://yellowhousemarket.com/
Facebook
Instagram
Hours:
Sun: CLOSED
Mon: CLOSED
Tue: 10:00 a.m. - 7:00 p.m.
Wed: 10:00 a.m. - 6:00 p.m.
Thu: 10:00 a.m. - 6:00 p.m.
Fri: 10:00 a.m. - 6:00 p.m.
Sat: 10:00 a.m. - 4:00 p.m.